The Garden
The pool (10 x 8 m) and main gardens (1200 sq.m) are overlooked by the spacious verandah - a delicious open and airy space where inside and outside become one.
Humming birds, kingfishers, a dazzling display of butterflies and the occasional monitor lizard can visit the lush and fecund garden.
As you enter the walled gardens of Villa Tukad, you find the separate guest suite on your right, and the lotus pond and wood-shingled Bale ahead.

The guest suite has a spacious twin/double bedroom, marble and granite shower-room with small external courtyard, and a pantry.

A greenstone Buddha looks out over the pond while two Ganeshes guard the entrance to the guest house.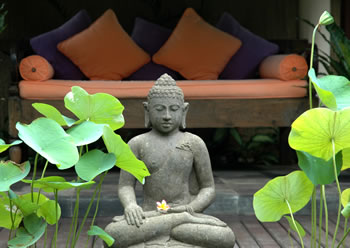 An antique Javanese sofa overlooking the lotus pond is the final touch.
Last update:
January 01. 2006